Radeon RX6950 XT is the new king in graphics performance. What is the reality of this claim? It is worth considering in many aspects.
We breathed easy after the Radeon RX6950 XT's premiere, so it's worth spending a lot of time reviewing the key information.
Radeon RX6950 XT, or the refreshed Radeon RX6900 XT
Radeon RX6950 XT isn't a new design – in fact, it is just an accelerated Radeon RX6900 XT.
Model
AMD Radeon RX6950 XT
AMD Radeon RX6900 XT
AMD Radeon RX6800 XT
Graphic layout
Navi 21 XTXH (7 nm, RDNA 2)
Navi 21 XTX (7 nm, RDNA 2)
Navi 21 XT (7 nm, RDNA 2)
Stream processors
5120
5120
4608
Texturing units:
320
320
288
Rasterization units:
128
128
128
Units of RT:
80
80
72
Clock/Boost:
2100/2310MHz
2015/2250 MHz
2015/2250 MHz
Video memory
16 GB GDDR6 256 Bit
16 GB GDDR6 256 Bit
16 GB GDDR6 256 Bit
Memory clock
18 000 MHz
16 000 MHz
16 000 MHz
Memory Bandwidth
576 GB / S
512 GB / S
512 GB / S
Infinity Cache Memory
128 MB
do 1793.5 GB/s
128 MB
do 1664.2 GB/s
128 MB
do 1664.2 GB/s
TBP:
335W
300 W
300 W
Suggested price
$1099
$999
$649
This card uses an accelerated version the graphics chip, and has faster VRAM memories. The manufacturer has also raised the power limit to allow you to spread the wings of this structure.
Version reference of Radeon RX6950 XT
AMD has created a reference card with large cooling systems and three slots. This version will only be sold through the official retailer. There are also non-reference models that have improved cooling and clocks that were factory raised. These versions include powerful heat sinks, although some manufacturers use AiO water cooling.
Radeon RX6950 XT Graphics Cards Ranking
Based on our tests, the card in 4K resolution is approximately 16% more efficient that Radeon RX6900 XT model. With standard rasterization, it can be called the most efficient design currently available. In titles that use Ray Tracing, the card is less efficient than comparable models such as GeForce GTX 3090 Ti and GeForceRTX3090.
The Radeon new model also made it into our graphics card ranking. You can see its specs and performance quickly there.
The 3DMark Fire Strike older test crowned the new model as the king in performance. It is slightly less than the GeForce RTX3090 Ti card, which is the top competitor model, in the 3DMark Time Spy (and almost twice as costly).
Radeon RX6950 XT graphics card review
Radeon RX6950 XT was listed at $ 1099. This should be equivalent to approximately PLN 6,000. Unfortunately, this equipment isn't readily available. Shops sell single items starting at PLN 8,500 to 9,000This is clearly more expensive that the GeForceRTX 3080Ti
ASUS TUF Gaming RX 6950XT OC
ASUS TUF Gaming Radeon 6950XT OC has powerful cooling. It includes a large heat sink and three large fans. This design ensures optimal temperatures and a positive work culture. The manufacturer also uses a passive mode of operation. The 32 cm length of the card, which takes up nearly three slots, is something to be noted. The core clock frequency has been increased from 2,116/2324MHz to 2,116/2324MHz.
ASUS ROG Strix LC Radeon XT OC
ASUS ROG Straix LC Radeon XT OC is a premium proposition from the manufacturer. It is equipped hybrid cooling – the card uses a turbine cooler and AiO watercooling with a 240 type of cooler. ASUS models are among the most efficient available on the market. The core clock was increased to 2343/2565MHz. However, the card requires three 8-pin power outlets to be connected.
Gigabyte Radeon RX6950 XT Gaming OC
The proprietary WindForce3X cooling is what sets the Gigabyte Radeon RX6950 XT Gaming OC apart. We are talking about an extended version. This is because the manufacturer used a powerful heatsink, three large fans, and a backplate to improve heat dissipation. It measures over 33 cm in length and takes up four slots within the housing. The card can be turned slightly (up to 2116/2324MHz), but it requires three 8-pin power adapters.
Gigabyte Radeon RX6950 XT Aorus Xtreme waterForce WB
Gigabyte Radeon RX6950 XT Xtreme WaterForceWB is a proposal to people who want to build a computer that has water cooling. The manufacturer used a full-cover water block (removing heat from core, memory and power sections) which was then decorated with an RGB LED backlight. The reverse side has a backplate. Aorus Xtreme WaterForce WB's version is the most efficient. Here, the core clock has been increased by 2343/2565 MHz. It also requires three 8-pin power outlets to be connected to the card.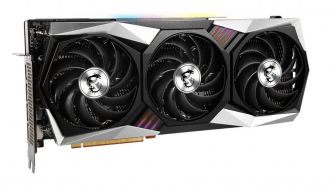 MSI Radeon RX6950 XT Gaming X Trio
MSI Radeon RX6950 XT Gaming X Trio has been the only offer in the manufacturer's offering. Its effectiveness is evident. The manufacturer focused on the powerful Tri Frozr 2 cooling system with three Torx Fan 2.0 fans and decorated the entire thing with the Mystic Light RGB backlight. This card is compatible with raised clocks (2224/2454 MHz) but requires three 8-pin power adapters.
PowerColor Radeon RX 6950 XT Red Devil
PowerColor Radeon RX6950 XT Red Devil has a long history under the sign of red. The cooling design is powerful with three fans. There are two BIOS profiles available for the card. The standard clocks can be set at 2116/2324 MHz but they can also go up to 2226/2435 MHz in OC mode. For proper operation, you will need to connect three 8 pin power plugs.
PowerColor Radeon RX 6950 XT Liquid Devil
The PowerColor Radeon RX6950 XT Liquid Devil is, in turn, a construction that includes a factory-installed fully cover water block. This card is of particular interest to those who are interested in building a cooled computer. The card was decorated with an RGB LED backlight by the manufacturer to make it even more exciting. Although the card has two BIOS profiles it is more efficient that the Red Devil one – the core clock in the first was increased to 2294/2513MHz and the second to 2343/2565MHz. (So, we are talking about the most efficient version of the RX6950 XT).
Sapphire Radeon RX 6950 XT Nitro+
Sapphire Radeon RX6950 XTnitro + is the basic proposition. It does not offer any savings as the card features a powerful cooling system with three illuminated fans that can be easily removed and cleaned. The entire thing measures 32 cm in length and takes up almost 3 slots. The card was slightly overclocked to 2116/2324MHz. However, the power limit was increased to 391W. For correct operation, it is necessary to connect two 8-pin or one 6-pin plugs to the power supply.
Sapphire Radeon RX 6950 XT Nitro+ Pure
Sapphire Radeon 6950 XTnitro + Pure is an even more packed offering. The cooling used by the manufacturer is even more powerful. It takes up almost all slots. The Nitro + Pure version has a faster core clock, which can be increased to 2162/2368 MHz in the OC mode. It can also be increased to 2435 MHz in the OC mode. However, the power limit has been raised from 405 W to 405 W. This card requires two 6-pin and eight-pin plugs to connect.
Sapphire Radeon RX6950 XT Toxic Limited edition
Sapphire Radeon RX6950 XT Toxic Limited Edition from the manufacturer is a great proposition. It is sure to appeal to the most demanding users. This card features hybrid cooling, which includes a 360 radiator (3×120), and an efficient backlight. This is not all. The manufacturer increased the core clock from 2310/2532 MHz to 2532 MHz. It can also be set to 2565 MHz in OC mode. This allows for a simultaneous increase in power to 450 W. (The power supply is provided via two 8-pin and six-pin plugs). Sapphire Toxic, therefore, is the most efficient Radeon RX6950 XT on the marketplace.
Is it worthwhile to buy a Radeon RX6950 XT card. The Radeon RX 6950 XT card is the best "red" option and the fastest graphics card on the market. It also has Ray Tracing capabilities. The new Radeon RX7000 models, from the entirely new generation RDNA 3, will debut on the markets in a few months. They will offer a significantly higher performance. It is not a good idea to buy a top card while you wait for a new georelation.
Source: AMD. ASUS. Gigabyte. MSI. PowerColor. Sapphire.